Summary
Current Position: US Senator since 2010
Affiliation: Democrat
Candidate: 2022 US Senator
Former Position: Other from 2001 – 2010
Other positions:
Chair, Select Committee on Ethics
Chair, Subcommittee on the Department of State, Foreign Operations, and Related Programs
Chair,  Subcommittee on Intellectual Property
Featured Quote: 
We can and should put Americans to work building resilience to climate change. That's why we are working on launching a new Civilian Climate Corps – expanding and diversifying the vision of AmeriCorps today.
Featured Video: 
Sen. Coons Joins MSNBC's The Sunday Show Sunday, July 25
News
i
News from Senator Chris Coons
Press Releases
In the News
Photo Gallery
Videos
eNewsletters
Articles
Social Media
Op-eds/Editorials
As part of the 2021 Notre Dame Forum "Care for Our Common Home," University President Fr. John Jenkins welcomed NBC chief environmental affairs correspondent Anne Thompson and U.S. Sen. Chris Coons to campus for a "fireside chat" on the transition to a sustainable future, entitled "Call to Action: Crossing the Political Divide to Address Climate Challenges."
To open up the discussion on the future of the environment, Jenkins announced that the University would be a carbon-neutral campus by the year 2050. He thanked leaders from the University and locally who have contributed to this goal while extending the goal to the international community.
Twitter
About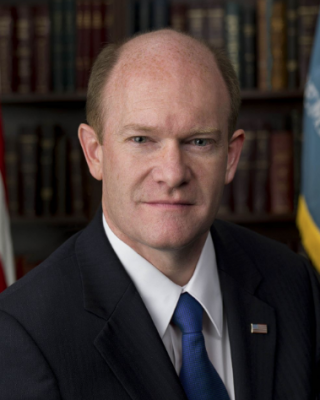 Source: Government page
hris has spent his career in the Senate focused on working across the aisle to get things done for the people of Delaware. In March 2017, the Bipartisan Policy Center recognized Chris for his commitment to bipartisanship and awarded him its Legislative Action Award. In November 2016, the independent congressional tracking website GovTrack ranked Chris in the top three most productive Senators of both parties.
Putting pragmatism ahead of politics, Chris has partnered with Republicans and Democrats alike to address key issues facing Delaware and the country. Chris has worked relentlessly with his colleagues on both sides of the aisle to provide resources for those struggling with drug addiction and to curb the impact of the opioid crisis. As a result of Chris and his colleagues' efforts, the Senate passed a comprehensive bill in 2018 that improves prevention, treatment, and recovery to combat the epidemic. Earlier that same year, legislation based on Chris's American Dream Accounts Act, which expands access to technical training and higher education to students in Delaware and across the country, was signed into law. In 2016, President Obama signed into law the Defend Trade Secrets Act, a bill Chris introduced with Republican Senator Orrin Hatch of Utah to better protect American invention and innovation.
Chris serves on the Senate Appropriations, Foreign Relations, Judiciary, Small Business and Entrepreneurship, and Ethics committees. He is the vice chair of the Ethics Committee and the senior Democrat on two subcommittees: The Senate Judiciary Subcommittee on Intellectual Property and the Senate Appropriations Subcommittee on Financial Services and General Government.
Chris is committed to bipartisan engagement, especially about the issues that matter most to Delawareans and the country. He co-founded and leads the Senate Human Rights Caucus, the Senate Competitiveness Caucus, the Senate Law Enforcement Caucus, and the Senate Chicken Caucus.
Before his election to the U.S. Senate in 2010, Chris served as New Castle County Council President for four years and New Castle County Executive for six years. Prior to serving as County Executive, Chris worked as an attorney for Delaware-based W.L. Gore & Associates, one of the 200 largest privately held manufacturing companies in the United States. As a law student, Chris founded the Delaware chapter of the national "I Have a Dream" Foundation, which helps low-income students make the academic journey from elementary school through college. Shortly after receiving his law degree and clerking on the U.S. Court of Appeals for the Third Circuit, Chris began working at the organization's national office. While there, he launched and ran the organization's AmeriCorps program, which helped recruit and train volunteers to mentor students in fifteen cities.
Voting Record
Committees
Select Committee on Ethics (Chair)
Committee on Appropriations

Subcommittee on Commerce, Justice, Science, and Related Agencies
Subcommittee on Energy and Water Development
Subcommittee on Financial Services and General Government
Subcommittee on Military Construction and Veterans Affairs, and Related Agencies
Subcommittee on the Department of State, Foreign Operations, and Related Programs (Chair)
Subcommittee on Transportation, Housing and Urban Development, and Related Agencies

Committee on Foreign Relations

Subcommittee on Africa and Global Health Policy
Subcommittee on East Asia, The Pacific, and International Cybersecurity Policy
Subcommittee on Europe and Regional Security Cooperation

Committee on the Judiciary

Subcommittee on Border Security and Immigration
Subcommittee on the Constitution
Subcommittee on Crime and Terrorism
Subcommittee on Intellectual Property (Chair)

Committee on Small Business and Entrepreneurship
Caucuses 
Senate Law Enforcement Caucus (Co-Chair)
Senate Competitiveness Caucus (Co-Chair)
Senate Chicken Caucus (Co-Chair)
Senate Human Rights Caucus (Co-Chair)
Senate Climate Solutions Caucus (Co-Chair)
Senate ALS Caucus (Co-Chair)
Congressional Trademark Caucus (Co-Chair)
Senate Fuel Cell and Hydrogen Caucus (Co-Chair)
Senate Caucus on Malaria and Neglected Tropical Diseases (Co-Chair)
National Service Congressional Caucus (Co-Chair)
Senate Oceans Caucus
Senate Manufacturing Caucus
Senate Renewables and Energy Efficiency Caucus
Congressional International Creativity and Theft-Prevention Caucus
Senate National Guard Caucus
Senate Small Brewers Caucus
Congressional Bicameral High-Speed & Intercity Passenger Rail Caucus
Senate Diabetes Caucus
Senate Global Internet Freedom Caucus
Senate India Caucus
Congressional French Caucus
Cloud Task Force, Congressional High Tech Caucus
Bicameral Congressional AIDS Caucus
Senate Veterans Jobs Caucus
Senate Air Force Caucus
Congressional Inventions Caucus
Congressional Bipartisan HBCU Caucus
Senate Recycling Caucus
Experience
Education
Bachelor
Amherst College
M.A.R
Yale Divinity School
J.D.
Yale Law School.
Contact
Email:
Offices
WILMINGTON
1105 N. Market Street, Suite 100
Wilmington, DE 19801
Phone: (302) 573-6345
DOVER
500 W. Loockerman Street, Suite 450
Dover, DE 19904
Phone: (302) 736-5601
Fax: (302) 736-5609
WASHINGTON, DC
218 Russell Senate Office Building
Washington, DC 20510
Phone: (202) 224-5042
Web
Government Page, Twitter, YouTube, Facebook
Politics
Source: none
Campaign Finance
Open Secrets – We Follow the Money
Voting Record
VoteSmart – Key Votes & Ratings
Search
Wikipedia Entry
Christopher Andrew Coons (born September 9, 1963) is an American lawyer and politician serving as the junior United States senator from Delaware since 2010. A member of the Democratic Party, Coons served as the county executive of New Castle County from 2005 to 2010.
Raised in Hockessin, Delaware, Coons graduated from Amherst College in Massachusetts, where he joined Delta Kappa Epsilon fraternity. He received graduate degrees from Yale Divinity School and Yale Law School. He went to work as a volunteer relief worker in Kenya, where he had taken classes in the University of Nairobi, later returning to the U.S. to work for the Coalition for the Homeless in New York. He spent some time as a legal clerk in New York before returning to Delaware in 1996, where he spent eight years as in-house counsel for a materials manufacturing company. In the interim he worked for several nonprofit organizations.
Coons served as president of the New Castle County Council from 2001 to 2005 and county executive of New Castle County from 2005 to 2010. He balanced the county budget with a surplus in fiscal year 2010 by cutting spending and raising taxes, and the county maintained a AAA bond rating. Coons contested the 2010 Senate special election for Delaware. He defeated the Republican nominee, Christine O'Donnell, to succeed Ted Kaufman, who had been appointed to the seat when Joe Biden resigned to become Vice President of the United States. He was elected to a full term in 2014. Coons is the chair of the Senate Ethics Committee. His other committee assignments include Appropriations, Foreign Relations, Judiciary, and Small Business and Entrepreneurship. He previously served as ranking member of the Senate Foreign Relations Subcommittee on African Affairs and the Judiciary Subcommittee on Bankruptcy and the Courts.[1]
Coons co-chaired the 2017 and 2019 National Prayer Breakfasts and co-chairs the weekly Senate Prayer Breakfast.[2] The New York Times called him an "effective" emissary of Joe Biden to former and current Republican lawmakers in Biden's 2020 campaign for president.[3]
Early life and education
Coons was born in Greenwich, Connecticut, the son of Sarah Louise "Sally" (née Ives) and Kenelm Winslow "Ken" Coons. His ancestry includes English and Irish.[4] Coons grew up in Hockessin, Delaware, where he attended the public Yorklyn Elementary School and later H.B. DuPont Middle School. His parents struggled financially and divorced in the mid-1970s. He and his two brothers lived with their mother for a few years until 1977, when his mother married Robert W. Gore, the President of W. L. Gore and Associates.[5]
He graduated from the private Tower Hill School and then Amherst College in 1985 with a Bachelor of Arts in chemistry and political science. While in college, he was a member of Delta Kappa Epsilon fraternity (Sigma chapter) and a U.S. Senate intern. In 1983, Coons was awarded a Truman Scholarship. During his junior year of college, he studied abroad at the University of Nairobi in Kenya through St. Lawrence University's Kenya Semester Program.[6] In 1992, he earned a master's degree in ethics from Yale Divinity School and a J.D. degree from Yale Law School.[7] In 2018, Delaware State University named Coons as an Honorary Doctor in Humane Letters.
Professional career
After college, Coons worked in Washington, D.C., for the Investor Responsibility Research Center, where he wrote a book on South Africa and the U.S. divestment movement. He then worked as a volunteer for the South African Council of Churches and as a relief worker in Kenya, before returning to the U.S. to work for the National Coalition for the Homeless in New York. In 1992, he earned a J.D. degree from Yale Law School, and a master's degree in ethics from Yale Divinity School.[8]
Coons clerked for Judge Jane Richards Roth on the United States Court of Appeals for the Third Circuit, and then worked for the National "I Have a Dream" Foundation in New York.[9] After returning to Delaware in 1996, Coons began his eight-year career as in-house counsel for W.L. Gore & Associates, Inc., Newark, Delaware-based makers of Gore-Tex fabrics and other high-tech materials. There he was responsible for the ethics training program, federal government relations, e-commerce legal work, and for general commercial contracting.[10]
He has also worked for several nonprofits, including the Coalition for the Homeless, the education-oriented "I Have a Dream" Foundation, and the South African Council of Churches. Coons has served on several boards including First State Innovation, the Bear/Glasgow Boys & Girls Club, and the Delaware College of Art & Design.
Coons is on the Board of Selectors of Jefferson Awards for Public Service.[11]
Early political career
Coons first became involved in politics working on behalf of Republican politicians. As a 17-year-old, in 1980, he independently campaigned for Ronald Reagan's presidential run. He also worked on Bill Roth's U.S. Senate campaign in 1982.[12] During college, he switched from being a Republican to a Democrat and in 1988, Coons became the issues director for the U.S. Senate campaign of Democratic Delaware Lt. Gov. Shien Biau Woo.[9][12] He was a delegate from Wilmington to the 1996 Democratic National Convention in Chicago.
His first elected office was president of the New Castle County Council, elected in 2000 and serving four years before being elected county executive in 2004. He was the endorsed candidate of the New Castle County Democratic Party in 2008, and was re-nominated by the party on September 9, 2008. Coons was re-elected on November 4, 2008, unopposed in the general election. In his six years in office as county executive, Coons balanced the budget with a surplus in fiscal year 2010 by cutting spending and raising taxes.[13] As New Castle county executive, Coons raised taxes despite having campaigned on a promise not to increase them.[14] New Castle County maintained a AAA bond rating throughout his tenure.[15]
U.S. Senate
Elections
2010
Coons ran in the 2010 special election for the U.S. Senate seat then held by Democrat Ted Kaufman, who was appointed after Joe Biden resigned to take office as vice president. Kaufman had been appointed as a placeholder, and did not run in the special election.[16] Coons was unopposed in the Democratic primary, and expected to face Republican Congressman and former Governor Mike Castle in the general election. He was considered a decided underdog in due to Castle's moderate profile and longstanding popularity in the state, but the dynamics of the race were significantly altered when Christine O'Donnell, a considerably more conservative Republican who had been Biden's opponent in 2008, upset Castle in the Republican primary.
In the first post-primary polls, Rasmussen Reports showed Coons with a double-digit lead over O'Donnell, describing this as a "remarkable turnaround" given that the race had leaned Republican before O'Donnell's primary victory.[17] In the first week of October, Fairleigh Dickinson University's PublicMind Poll showed Coons with a 17-point lead, 53%-36%, over O'Donnell, and that 85% of self-identified Democratic voters had united behind Coons, while only 68% of Republican voters endorsed O'Donnell.[18] Days before the election, a second Fairleigh Dickinson poll showed Coons leading 57% to 36% among likely voters, and 72% to 20% among voters who described themselves as moderates.[19] As polls closed at 8 p.m. Eastern Standard Time, multiple news sources announced that Coons had defeated O'Donnell based on exit poll data. Final results gave Coons close to a 17-point margin over O'Donnell, with 56.6% of the vote to her 40%.[20]
During the campaign, a controversy arose about an article Coons wrote in 1985 for his college newspaper titled "Chris Coons: The Making of a Bearded Marxist".[21] In it, he described his transformation from a Republican to what Fox News described as a "Democrat suspicious of America's power and ideals."[22] Dave Hoffman, a Coons campaign spokesman, said the title of the article was designed as a humorous take-off on a joke Coons's college friends had made about how his time outside the country had affected his outlook. "After witnessing crushing poverty and the consequences of the Reagan Administration's 'constructive engagement' with the South African apartheid regime, he rethought his political views, returned to the America he loved and proudly registered as a Democrat," Hoffman said in a statement to Politico.[23]
According to Fox News, Coons was "targeted by Republicans" over the 25-year-old piece. Coons downplayed the article, as well as controversial past statements by O'Donnell, saying that voters were interested in current issues such as job creation and the national debt and not "particularly interested in statements that either of us made 20 or 30 years ago."[22] David Weigel wrote in Slate, "If the Tea Party Express slings the 'bearded Marxist' nonsense, I doubt it will work."[24]
2014
Coons was elected to his first full term by defeating Republican challenger Kevin Wade and Green Party candidate Andrew Gross on November 4, 2014.[25] Wade, an engineer and businessman, also ran against U.S. Senator Tom Carper in 2012.[26] Coons won 55.8% of the popular vote (130,655 to Wade's 98,823 and to Groff's 4,560).[27]
2020
In the 2020 Democratic primary election, Coons easily defeated technology executive Jessica Scarane, a progressive challenger endorsed by groups like Brand New Congress.[28] In the general election, Coons faced Republican nominee Lauren Witzke, a controversial conservative activist and conspiracy theorist calling for a ten-year immigration moratorium.[29] Coons and Witzke took part in a digital debate hosted by the Jewish Federation of Delaware, in which they debated the merits of late Supreme Court Justice Ruth Bader Ginsburg and the Black Lives Matter movement, as well as Witzke's comments about the QAnon conspiracy theory.[30] In the November general election, Coons defeated Witzke, 59-38%.[31]
Tenure
2010s
On November 15, 2010, Coons was sworn in as Delaware's newest senator by Vice President Joe Biden, the former occupant of Coons's Senate seat. Joe Manchin of West Virginia was sworn in on the same day, though he took an advantage in seniority over Coons, as the former governor of West Virginia.
The Affordable Care Act (commonly called Obamacare) had already been passed when Coons took office, but he has voted against repealing it, emphasizing that seniors in Delaware would have to pay higher prescription drug prices if it was repealed.[32] In September 2017, Coons said the Graham-Cassidy bill, meant to replace the Affordable Care Act, would be playing "Russian roulette with the American health care system."[33]
On abortion, Coons has received a 100% rating from the Planned Parenthood Action Fund and a 0% rating from the National Right to Life Committee.[34][35]
In June 2013, after the death of Democratic senator Frank Lautenberg of New Jersey, Coons was appointed to his seat on the influential Appropriations Committee, becoming the first senator from Delaware to serve on the committee in 40 years. As a result, he gave up his seat on the Committee on Energy and Natural Resources.[36][37][38]
In October 2013, Coons announced the formation of the inaugural Senate Chicken Caucus in the United States Senate. He stated, "I hope that the Senate Chicken Caucus will give America's chicken producers a platform to better inform legislators about the industry's vital contributions to our economy, and promote policy solutions that help their businesses grow and thrive."[39]
On December 11, 2013, Coons introduced the Victims of Child Abuse Act Reauthorization Act of 2013 (S. 1799; 113th Congress), a bill that would reauthorize the Victims of Child Abuse Act of 1990 and would authorize funding through 2018 to help child abuse victims.[40] Coons said that "we have a responsibility to protect our children from violence and abuse."[40]
In March 2014, Coons voted against President Obama's nomination of civil rights lawyer Debo Adegbile for Assistant Attorney General for Civil Rights, even though he believed that Adegbile would have been "an asset to the Justice Department." He stated that voting for a nominee "who would face such visceral opposition from law enforcement on his first day on the job" was troubling and the vote was "one of the most difficult I have taken since joining the Senate".[41] Obama described the Senate's vote against Adegbile as "a travesty based on wildly unfair character attacks against a good and qualified public servant."[42] An open letter to Coons from students, faculty and alumni of the Yale Law and Divinity Schools, of which Coons is an alumnus, criticized his vote as "alarm[ing]" and "signal[ing] a lack of respect for the fundamental American legal principle that all parties have a right to zealous representation."[43]
Coons was mentioned as a possible replacement for the late Justice Antonin Scalia in February 2016.[44]
In April 2017, after President Trump tweeted that North Korea had "disrespected the wishes of China & its highly respected President" with a recent missile launch, Coons said Trump understood China was his sole "constructive path forward on North Korea" but that diplomacy would not work through tweeting.[45]
In July 2017, Coons voted in favor of the Countering America's Adversaries Through Sanctions Act that placed sanctions on Iran together with Russia and North Korea.[46]
In April 2018, following the FBI raid on the hotel room and offices of Trump's personal attorney, Michael Cohen, Coons, Cory Booker, Lindsey Graham, and Thom Tillis introduced new legislation to "limit President Trump's ability to fire special counsel Robert Mueller". Termed the Special Counsel Independence and Integrity Act, the legislation would allow any special counsel, in this case Mueller, receive an "expedited judicial review" in the 10 days following being dismissed to determine whether the dismissal was appropriate. If not, the special counsel would be reinstated. At the same time, according to The Hill, the bill would "codify regulations" that a special counsel could be fired only by a senior Justice Department official, while having to provide reasons in writing.[47]
2020s
In November 2020, Coons was named a candidate for Secretary of State in the Biden Administration.[48] Biden ultimately chose Antony Blinken to lead the State Department, telling Coons, "I need you in the Senate."[49] Coons is seen as among President Biden's closest allies in the Senate and is poised to broker political power during Biden's presidency.[50]
During the 2021 storming of the United States Capitol, Coons was evacuated from the Senate chambers, along with other senators and staff. He said there were "some scary and chaotic moments" during the attack. When the Senate reconvened to certify the Electoral College vote count, Coons called for Trump's removal, saying he "poses a real and present threat to the future of our democracy". He called for the invocation of the Twenty-Fifth Amendment to the United States Constitution the day after the event on Good Morning America.[51] That same day, January 7, he called for Republicans Josh Hawley and Ted Cruz, who both challenged the election results, to resign from the Senate.[52]
Committee assignments
Previous (2010–2015)[53]
Caucus memberships
Political positions
The American Conservative Union gave him a 3% lifetime conservative rating in 2020[56]
Abortion
Coons supported Roe v. Wade and believes abortion should remain legal throughout the country. In 2015, he signed an amicus brief to the Supreme Court in Whole Woman's Health v. Hellerstedt that urged the Court to step in to prevent states from enacting laws that restrict access to abortion.[57] Coons described the June 2022 overturning of Roe v. Wade as taking away "the fundamental freedom for women to make their own choices about their body and their future."[58]
Agriculture
In June 2019, Coons and 18 other Democratic senators sent USDA Inspector General Phyllis K. Fong a letter requesting that she investigate USDA instances of retaliation and political decision-making and asserting that not to conduct an investigation would mean these "actions could be perceived as a part of this administration's broader pattern of not only discounting the value of federal employees, but suppressing, undermining, discounting, and wholesale ignoring scientific data produced by their own qualified scientists."[59]
Child care
In 2019, Coons and 34 other senators introduced the Child Care for Working Families Act. The bill would create 770,000 new child-care jobs and ensure families with less than 75% of the state median income do not pay for child care, with higher-earning families having to pay "their fair share for care on a sliding scale, regardless of the number of children they have." The legislation also supports universal access to high-quality preschool programs for all 3- and 4-year-olds and changes the child care workforce's compensation and training to aid both teachers and caregivers. The bill has not made it out of committee as of August 2020.[60]
Environment
In April 2019, Coons was one of 12 senators to sign a bipartisan letter to top senators on the Appropriations Subcommittee on Energy and Water Development advocating that the Energy Department be granted maximum funding for carbon capture, utilization and storage (CCUS), arguing that investment in viable options to capture carbon emissions could stimulate American job growth and expressing disagreement with Trump's 2020 budget request to combine the two federal programs that include carbon capture research.[61] Coons was revealed in a sting operation by Greenpeace to be a key contact for ExxonMobil in efforts to weaken the climate regulations in President Biden's INVEST in America Act.[62]
Gun law
As of 2010, Coons had a "F" rating from the National Rifle Association due to his stance on gun control.[63] In 2015, he and 23 other Democratic senators signed a letter to Obama asking him to take executive action on gun control in the wake of the Umpqua Community College shooting. Coons supported the Feinstein Amendment, which sought to ban known and suspected terrorists from buying firearms.[64] The next year, he participated in the Chris Murphy gun control filibuster.[65]
Foreign policy
In December 2010, Coons voted for the ratification of New START,[66] a nuclear arms reduction treaty between the United States and Russian Federation obliging both countries to have no more than 1,550 strategic warheads as well as 700 launchers deployed during the next seven years along with providing a continuation of on-site inspections that halted when START I expired the previous year. It was the first arms treaty with Russia in eight years.[67]
Coons is a member of the Senate Foreign Relations committee and is a staunch supporter of Israel. He has also been a guest speaker at AIPAC events. Coons is also a co-sponsor of a Senate resolution expressing objection to the UN Security Council Resolution 2334 because it undermines direct talks between the parties.[68]
Coons condemned the genocide of the Rohingya Muslim minority in Myanmar and called for a stronger response to the crisis.[69]
In October 2018, Coons was one of seven senators to sign a letter to United States Secretary of State Mike Pompeo expressing that they found it "difficult to reconcile known facts with at least two" of the Trump administration's certifications that Saudi Arabia and the United Arab Emirates were attempting to protect Yemeni civilians and were in compliance with US laws on arms sales, citing their lack of understanding for "a certification that the Saudi and Emirati governments are complying with applicable agreements and laws regulating defense articles when the [memo] explicitly states that, in certain instances, they have not done so."[70]
In November 2018, Coons joined Senator Marco Rubio and a bipartisan group of lawmakers in sending the Trump administration a letter raising concerns about China's undue influence over media outlets and academic institutions in the United States. They wrote, "In American news outlets, Beijing has used financial ties to suppress negative information about the CCP. In the past four years, multiple media outlets with direct or indirect financial ties to China allegedly decided not to publish stories on wealth and corruption in the CCP…Beijing has also sought to use relationships with American academic institutions and student groups to shape public discourse."[71]
In April 2019, Coons was one of 34 senators to sign a letter to Trump encouraging him "to listen to members of your own Administration and reverse a decision that will damage our national security and aggravate conditions inside Central America", asserting that Trump had "consistently expressed a flawed understanding of U.S. foreign assistance" since becoming president and that he was "personally undermining efforts to promote U.S. national security and economic prosperity" by preventing the use of Fiscal Year 2018 national security funding. The senators argued that foreign assistance to Central American countries created less migration to the U.S., arguing that the funding improved conditions in those countries.[72]
On June 6, 2021, Coons and Senators Tammy Duckworth and Dan Sullivan visited Taipei in an U.S. Air Force C-17 Globemaster III transport to meet President Tsai Ing-wen and Minister Joseph Wu during the pandemic outbreak of Taiwan to announce President Joe Biden's donation plan of 750,000 COVID-19 vaccines included in the global COVAX program.[73][74][75]
Fiscal position
Coons supports free-trade agreements.[76] He opposed the Obama-era government bailouts.[77] He is against right-to-work laws, and supports internet sales tax.[78]
Housing
In April 2019, Coons was one of 41 senators to sign a bipartisan letter to the housing subcommittee praising the United States Department of Housing and Urban Development's Section 4 Capacity Building program for authorizing "HUD to partner with national nonprofit community development organizations to provide education, training, and financial support to local community development corporations (CDCs) across the country" and expressing disappointment that Trump's budget "has slated this program for elimination after decades of successful economic and community development." The senators wrote of their hope that the subcommittee would support continued funding for Section 4 in Fiscal Year 2020.[79]
Labor
In May 2018, Coons was one of 12 senators to sign a letter to Chairman of the Federal Labor Relations Authority Colleen Kiko urging the FLRA to end efforts to close its Boston regional office until Congress debated the matter, adding that closing the FLRA's seven regional offices would cause staff to be placed farther away from the federal employees whose rights they protect.[80]
On March 5, 2021, Coons voted against Bernie Sanders's amendment to include a $15/hour minimum wage in the American Rescue Plan Act of 2021.[81]
LGBT rights
In September 2014, Coons was one of 69 members of the US House and Senate to sign a letter to then-FDA commissioner Sylvia Burwell requesting that the FDA revise its policy banning donation of corneas and other tissues by men who have had sex with another man in the preceding 5 years.[82][83]
In October 2018, Coons was one of 20 senators to sign a letter to Secretary of State Mike Pompeo urging him to reverse the rollback of a policy that granted visas to same-sex partners of LGBTQ diplomats who had unions that are not recognized by their home countries, writing that too many places around the world have seen LGBTQ individuals "subjected to discrimination and unspeakable violence, and receive little or no protection from the law or local authorities" and that refusing to let LGBTQ diplomats bring their partners to the US would be equivalent to upholding "the discriminatory policies of many countries around the world."[84]
Patents
Coons proposed the Stronger Patents Act, which would make it more expensive to challenge patents and thus easier to enforce them.[85]
Electoral history
Year
Office
Election
Candidate
Party
Votes
%
Opponent(s)
Party
Votes
%
2000
County Council
Primary
Christopher A. Coons
Democratic
7,520
48%
Vincent D'Anna
Martha Denison
Dwight L. Davis
Democratic
3,220
2,414
2,370
21%
16%
15%
2000
County Council
General
Christopher A. Coons
Democratic
113,050
56%
Michael Ramone
Republican
87,462
44%
2004
County Executive
Primary
Christopher A. Coons
Democratic
17,584
67%
Sherry Freebery
Richard Korn
Democratic
4,702
4,130
18%
15%
2004
County Executive
General
Christopher A. Coons
Democratic
131,397
58%
Christopher Castagno
Republican
93,424
42%
2008
County Executive
General
Christopher A. Coons
Democratic
194,005
100%
2010
United States Senate
General
Christopher A. Coons
Democratic
173,900
56.6%
Christine O'Donnell
Republican
123,025
40%
2014
United States Senate
General
Christopher A. Coons
Democratic
130,645
55.8%
Kevin Wade
Republican
98,819
42.2%
2020
United States Senate
General
Christopher A. Coons
Democratic
291,804
59.4%
Lauren Witzke
Republican
186,054
37.9%
Personal life
Coons is married to the former Annie Lingenfelter.[86] They have three children, twins Mike and Jack, and daughter Maggie, and they live in Wilmington, Delaware. Coons is Presbyterian, his wife is Catholic, and they attend St. Ann's Roman Catholic Church in the city. Coons describes himself as "someone who is, privately, fairly religious," though he has never thought "that needs to be a big part of [campaigning]."[87]
In 1999, he was awarded the Governor's Outstanding Volunteer Award for his work with the "I Have a Dream" Foundation, the Governor's Mentoring Council, and the United Way of Delaware.[10]
As of 2018, according to OpenSecrets.org, Coons's net worth was more than $10 million.[88]
References
External links
Recent Elections
2014
| | | |
| --- | --- | --- |
| Chris Coons (D) | 130,655 | 55.8% |
| Kevin Wade (R) | 98,823 | 42.2% |
| TOTAL | 229,478 | |
Source: Ballotpedia
Finances
COONS, CHRIS has run in 3 races for public office, winning 2 of them. The candidate has raised a total of $14,165,622.
Source: Follow the Money
Committees
Committees
Appropriations Committee »
The Senate Appropriations Committee is the largest committee in the U.S. Senate, with 31 members in the 115th Congress.Its role is defined by the U.S. Constitution, which requires "appropriations made by law" prior to the expenditure of any money from the Treasury, and is therefore, one of the most powerful committees in the Senate.
United States Senate Committee on Foreign Relations
The United States Senate Committee on Foreign Relations is a standing committee of the United States Senate.It is charged with leading foreign-policy legislation and debate in the Senate.
U.S. House Judiciary Committee
The U.S. House Committee on the Judiciary, also called the House Judiciary Committee, is a standing committee of the United States House of Representatives. It is charged with overseeing the administration of justice within the federal courts, administrative agencies and Federal law enforcement entities. The Judiciary Committee is also the committee responsible for impeachments of federal officials. Because of the legal nature of its oversight, committee members usually have a legal background, but this is not required.
Small Business & Entrepreneurship Committee
The U.S. Senate Committee on Small Business and Entrepreneurship is a standing committee of the United States Senate having jurisdiction over the Small Business Administration. The committee reviews all matters that apply to small business that are not by themselves subject to the jurisdiction over another standing committee.
Select Committee on Ethics
The U.S. Senate Select Committee on Ethics is a select committee of the United States Senate charged with dealing with matters related to senatorial ethics. It is also commonly referred to as the Senate Ethics Committee. Senate rules require the Ethics Committee to be evenly divided between the Democrats and the Republicans, no matter who controls the Senate, although the chairman always comes from the majority party.
Voting Record
See: Vote Smart
New Legislation
Source: Government Page
Issues
Source: Government page
Committees
Legislation
Issues
Civil Rights
Civil Rights and Civil Liberties
Our country's Constitution and federal laws contain critical protections that form the foundation of our inclusive society – the right to be free from discrimination, the freedom to worship as we choose, the right to vote for our elected representatives, the protections of due process, the right to privacy.  Senator Coons believes we must vigilantly protect these rights and work to expand their reach.
Economy
All Americans—regardless of race, gender, or background—deserve the opportunity to earn a secure middle-class life. That value is the core of Senator Coons' economic vision. Senator Coons supports a variety of strategies that create more American jobs, help workers find pathways to those jobs, and that improve the pay and benefits offered to American workers.
Education
To strengthen our nation's economic prosperity, we must invest in its future. That means supporting teachers, protecting our most disadvantaged students, helping low-income families save for college, and ensuring that higher education prepares students for success. Senator Coons was proud to vote for the Every Student Succeeds Act of 2015, which reauthorized the Elementary and Secondary Education Act to help states and school districts serve the needs of students of all backgrounds. Still, he knows that there is more work to be done if we are to ensure students are excelling in reading, science, and math, equipping them with the skills that will be central to our twenty-first century economy.
Environment
Both energy and the environment are key elements of our everyday lives. We need energy to power our homes, businesses, transportation systems, electronic devices, and more. However, we must also be careful stewards of our natural resources so that we have enough to meet our needs in the present while also planning for the future. The United States is a global leader in innovation, and Senator Coons believes we should prioritize discovery, development, and commercialization of sustainable next-generation technologies that can both protect our environment and drive our economy. He also believes we must enact policies that place reasonable limits on activities with negative environmental impact, ensuring that we leave clean air, clean water, and healthy, vibrant ecosystems to our children.
Health Care
The 2010 passage of the Patient Protection and Affordable Care Act (ACA), a landmark health care reform law, represented a milestone in the expansion of access to quality, affordable health care for all Americans and the development of long-needed protections for those with pre-existing conditions. Senator Coons believes we should improve upon the landmark reform law and continue to build a strong foundation for a healthy future. Senator Coons' health care priorities include:
Veterans
Supporting the National Guard. Senator Coons is committed to helping the Guard fulfill its dual role as a first responder at the state and local levels and supporting its role as an operational reserve with the Active Duty military abroad.  Senator Coons is an active member of the Senate National Guard Caucus and an advocate for Guard-related legislation, including his successful efforts to enhance the Guard's State Partnership Program and ensure benefits for Guardsmen deployed abroad.
Securing the Role of Dover Air Force Base. Dover Air Force Base is central to the economy of Kent County and provides good jobs to thousands of Delawareans.  Dover is both a strategic airlift hub vital to U.S. military operations abroad and the first place on American soil to which our fallen service members return.  Senator Coons is dedicated to expanding these two important duties and supporting continued military construction at Dover.
Upholding our Sacred Bond to Veterans. The American people have a sacred bond with our servicemembers.  We must maintain that bond when they serve abroad and when they return home.  Senator Coons is committed to preventing veterans' homelessness and to helping veterans find employment, both through legislation and veterans' jobs fairs he hosts with the Delaware Congressional delegation twice per year.
Agriculture
Our nation has long been sustained by the hard work and spirit of its farmers. Delaware, in particular, has a long history as an agricultural state, and the quality of our produce, poultry, and grain products is well known both regionally and globally. Agriculture contributes nearly $8 billion a year to Delaware's economy and accounts for 30,000 jobs in the state. From Sussex County's vibrant poultry industry to fresh bananas shipped through the Port of Wilmington, Delaware plays a vital role in feeding America's families.
Foreign Relations
As a leading member of the Senate Foreign Relations Committee, Senator Coons believes America can and should play a leading role around the world.  He thinks the United States must remain globally engaged and utilize our diplomatic, military, economic, and moral power to safeguard our security, ensure our national interests, and advance our values.
Intellectual Property
To stay at the top, innovation must be supported by strong intellectual property laws that encourage and reward research and development and that penalize and deter IP theft – from online piracy of movies or music to commercial hacking of a company's valuable trade secrets.
Manufacturing and Innovation
The hallmark of our nation's economy has long been that anyone with creativity, ambition, and a good work ethic can realize their dreams and move America forward. Yet while our culture of innovation and entrepreneurial spirit remain strong, the United States faces stiff competition abroad.
Women's Rights
Ensuring women have equal rights and opportunities
Even in 2016, American women still have to fight for equal rights and opportunities under the law. If we are to move towards the "more perfect union" promised by our Constitution, we have to work for a more equal and just society – one where women have the right to control their own bodies and health care decisions, where they do not live in fear or silence due to domestic violence, and where they can earn the same salary as a man for doing the same job.
Senator Coons' priorities for women's rights include:
Protecting reproductive rights. Senator Coons believes that decisions about a woman's health, including issues surrounding pregnancy, should be left to her and her doctor. Abortion should remain safe and legal for women regardless of their financial means. He supports Roe v. Wade and supports restoring the original rights expressed in the decision before legislation and courts began eroding them. In May of 2019, Senator Coons cosponsored a resolution that underscores the constitutionality of Roe v. Wade supports efforts to ensure all women can access comprehensive reproductive health care. He is also a proud cosponsor of the Women's Health Protection Act, which prohibits state regulations and laws that aim to restrict women's access to safe, legal reproductive health services.
Ensuring access to women's health and family planning services. Senator Coons supports public funding of all reproductive and preventative health services for women who cannot otherwise afford health care. He will continue to fight efforts to defund the Title X family planning program and Planned Parenthood. Without these programs, millions of Americans would be unable to access preventative screenings, birth control, and other health and family planning services.
Combating domestic violence. As a member of the Senate Judiciary Committee, Senator Coons worked aggressively to support the reauthorization of the Violence Against Women Act, which has transformed the way communities confront and respond to domestic violence.
Fighting for equal pay for equal work. The idea that women are still paid less for doing the same job as men in America is not fair and should be addressed. Senator Coons believes a person's earning potential should only be based on their talent and hard work and has strongly supported legislative efforts to enforce pay equity, including the Paycheck Fairness Act.
Advocating for paid leave. Senator Coons believes that no American should have to face the difficult choice of caring for themselves or a loved one or keeping their job. That's why he's a proud cosponsor of the Healthy Families Act, which would set a national paid sick days standard and allow workers in businesses with 15 or more employees to earn up to seven job-protected paid sick days each year.