Summary
Current Position: US Senator since 2001
Affiliation: Democrat
Former Positions: Governor from 1993 – 2001; US Representative from 1983 – 1993; Treasurer of Delaware from 1977 – 1983
Other positions:
Chair, Committee on Environment and Public Works (Chairman)
Chair, Permanent Subcommittee on Investigations
Featured Quote: 
I'm glad the issues in Newark are on the road to being resolved, but more must be done. Our communities rely on the Postal Service — that's why we must work on protecting, strengthening, and reforming USPS so it can serve our neighborhoods, our families, and future generations.
Featured Video: 
St. Paddy's Day, SportsTalk and Tom Carper on a train — Congressional Hits and Misses
News
Republican-controlled state legislatures have passed legislation that restricts access to voting, allows partisan gerrymandering, and politicizes the counting of votes. Federal legislation is critical to block these state-level laws.
Twenty of Delaware's Democratic lawmakers wrote to Senators Tom Carper and Chris Coons to express their "concerns about the insidious erosion of voting rights across our nation" by "Republican state legislators, including here in Delaware, who are trying to silence voters, particularly Black and Brown Americans."
Twitter
About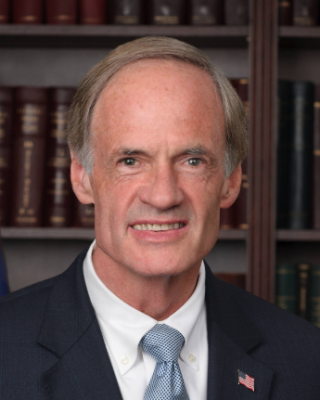 Source: Government page
Born in West Virginia and raised in Virginia, Senator Tom Carper attended The Ohio State University on a Navy R.O.T.C. scholarship, graduating in 1968 with a B.A. in economics. He went on to complete five years of service as a naval flight officer, serve three tours of duty in Southeast Asia during the Vietnam War, and continued to serve in the Naval Reserve as a P-3 aircraft mission commander until retiring with the rank of captain in 1991 after 23 years of military service. With the war winding down in Southeast Asia, Tom Carper moved to Delaware in 1973 where he earned his M.B.A. at the University of Delaware. Today, he and his wife of 30 years, Martha, live in Wilmington and are the proud parents of two sons. Senator Carper travels from Wilmington to Washington each day on an Amtrak train.
His career in public service began in 1976 when he was elected to the first of three terms as Delaware's state treasurer at the age of 29 at a time when the state of Delaware had the worst credit rating of any state in America. Six years later, with that credit rating restored to a respectable "AA," he ran for – and was elected – to Delaware's at-large seat in the U.S. House of Representatives.
Senator Carper went on to serve five terms as a U.S. congressman where he earned a reputation as a results-oriented centrist serving on the House Financial Services Committee, as well as the Merchant Marine and Fisheries Committee, which is now part of the House Committee on Natural Resources. In 1991, then-Congressman Carper led a bipartisan, six-member congressional delegation of Vietnam veterans back to Southeast Asia to search for U.S. soldiers whose remains were never recovered and listed as MIAs. During that trip, the group met with the new Vietnamese General Secretary Do Muoi and helped lay the groundwork for normalizing relations between the United States and Vietnam.
Tom Carper was then elected the 78th governor of Delaware in 1992 and served two terms in that role. As governor, he pursued a common-sense agenda that led to eight balanced budgets, tax cuts in seven of those eight years, and major increases in employment. Governor Carper led the effort to strengthen the state's "rainy day" fund and boost Delaware's credit rating to "AAA" for the first time in state history, while helping to overhaul the state's education system and to implement welfare reform initiatives in Delaware and the nation.
During his second term as governor, Tom Carper was selected by his colleagues to serve as vice-chairman, then as chairman, of the National Governors' Association (NGA). After serving as chairman, he led the NGA's 'Center for Best Practices,' which focused on developing and implementing innovative solutions to policy challenges faced by governors across the nation. From 1994-1998, he served as a member of Amtrak's board of directors and, later, as founding vice-chairman of the American Legacy Foundation to combat youth smoking and as vice-chairman of Jobs for America's Graduates, a national non-profit to reduce high school dropouts.
On Jan. 3, 2001, Governor Carper stepped down two weeks early to become Delaware's junior senator. He was reelected in 2006, and with his reelection in November 2012 he has been elected to state-wide public office in Delaware 13 times. When Senator Joe Biden stepped down to become vice president in January 2009, Tom Carper became Delaware's senior senator.
As the top Democrat on the Environment and Public Works Committee, Senator Carper leads the fight to protect our environment and clean up our air as the committee's ranking member in the 117th Congress. During his time on the committee, Senator Carper successfully defended common sense clean air regulations from misguided attempts to repeal them, and he continues to push for meaningful protections that limit carbon pollution, regulate cross-state air pollution and help stem the tide of climate change. He led the effort to pass the Diesel Emissions Reduction Act with Sen. George Voinovich (R-Ohio), which has cleaned up millions of old, dirty diesel engines to help save lives and improve public health. Senator Carper also helped broker the compromise that created our country's highest fuel efficiency standards in a generation, saving Americans billions of dollars at the pump.
Senator Carper also serves as a senior member on the Senate Homeland Security and Governmental Affairs Committee, having served as the committee's chairman in the 113th Congress and ranking member in the 114th Congress. In his continued work on the committee, he focuses on protecting our country from threats to our national security, as well as ensuring federal government programs are efficient and using taxpayer dollars wisely. Senator Carper continues to champion postal reform with the goal of protecting the U.S. Postal Service from collapse and ensuring it remains a robust American institution for generations to come. He has also supported legislation to improve cybersecurity across the federal government and ensure we are doing all we can to respond to the growing threats our country faces in cyberspace.
During more than 30 years of public service, Senator Carper has worked tirelessly to develop practical solutions to real problems. His ability to work across party lines has earned him a reputation for consensus-building that is unique in today's political climate. The Washington Post's late David Broder calls him "a notably effective and non-partisan leader, admired and trusted on both sides of the aisle."
Voting Record
Committee on Environment and Public Works (Chairman)
Committee on Finance

Subcommittee on Energy, Natural Resources, and Infrastructure
Subcommittee on Health Care
Subcommittee on Taxation and IRS Oversight

Committee on Homeland Security and Governmental Affairs

Permanent Subcommittee on Investigations (Chair)
Subcommittee on Regulatory Affairs and Federal Management
Caucuses 
Caucus Leadership
Senate Payments Innovation Caucus (Co-Chair)
Congressional Fire Services Caucus (Co-Chair)
Senate Nuclear Caucus (Co-Chair)
Senate Recycling Caucus (Co-Chair and Founding Member)
Senate Community Health Center Caucus (Founding Member)
Moderate Democrats Working Group (Co-Chair)
Senate Environmental Justice Caucus (Co-Chair and Founding Member)
Caucus Membership
Congressional Sportsmen's Caucus
Congressional Public Service Caucus
Congressional Bicameral High-Speed & Intercity Passenger Rail Caucus
Congressional Port Security Caucus
Congressional Boating Caucus
Senate Veterans Jobs Caucus
Senate Indian Caucus
Senate Oceans Caucus
Senate Cancer Coalition
Senate National Guard Caucus
Senate Democratic Policy Committee
Air Force Caucus
Northeast-Midwest Senate Coalition
Senate Bipartisan Small Brewers Caucus
Congressional Arthritis Caucus
Senate Diabetes Caucus
Whistleblower Protection Caucus
Organization Leadership
Third Way (Honorary Co-Chair)
Jobs for America's Graduates, Inc. (Honorary Board of Directors Member)
Boy Scouts of America, Delmarva Council (Advisory Board Member)
Organization Membership
New Democrat Network
Common Cause
The American Legion
The United States Junior Chamber (Jaycees)
Veterans of Foreign Wars of the U.S.
Vietnam Veterans of America
Offices
WASHINGTON, DC
513 Hart Senate Office Building
Washington, DC 20510
Phone: (202) 224-2441
Fax: (202) 228-2190
M-F 8:30 a.m. to 6:00 p.m.
(Senate in session)
M-F 9:00 a.m. to 5:00 p.m.
(Senate out of session)
WILMINGTON
301 North Walnut Street
Suite 102L-1
Wilmington, DE 19801-3974
Phone: (302) 573-6291
Fax: (302) 573-6434
M-F 8:30 a.m. to 5:30 p.m.
DOVER
555 E Loockerman Street
Suite 300
Dover, DE 19901
Phone: (302) 674-3308
Fax: (302) 674-5464
M-F 8:30 a.m. to 5:30 p.m.
GEORGETOWN
12 The Circle
Georgetown, DE 19947
Phone: (302) 856-7690
Fax: (302) 856-3001
M-F 8:30 a.m. to 5:30 p.m.
Contact
Email:
Web
Government Page, Twitter, YouTube, Facebook
Politics
Source: none
Campaign Finance
Open Secrets – We Follow the Money
Voting Record
VoteSmart – Key Votes & Ratings
Search
Wikipedia Entry
Thomas Richard Carper (born January 23, 1947) is an American politician and former military officer serving as the senior United States senator from Delaware, having held the seat since 2001. A member of the Democratic Party, Carper served in the United States House of Representatives from 1983 to 1993 and was the 71st governor of Delaware from 1993 to 2001.
A native of Beckley, West Virginia, Carper graduated from Ohio State University. Serving as a naval flight officer in the U.S. Navy from 1968 until 1973, he flew the P-3 Orion as a tactical coordinator and mission commander[1] and saw active duty in the Vietnam War. After leaving the active duty Navy, he remained in the U.S. Naval Reserve for another 18 years and eventually retired with the rank of Captain (O-6). Upon receiving his MBA from the University of Delaware in 1975, Carper went to work for the state of Delaware in its economic development office. He was elected state treasurer, serving from 1977 to 1983 and leading the development of Delaware's first cash management system.
Encouraged by local politicians, Carper successfully ran for Delaware's only seat in the U.S. House of Representatives in 1982. He served five terms in the House, where he chaired the Subcommittee on Economic Stabilization. In 1992 he arranged a swap with term-limited Republican Governor Mike Castle, and the two were easily elected to each other's seats. Carper governed for two terms as a moderate, business-oriented New Democrat, following the lead of the two previous Republican governors.
Carper was elected to the U.S. Senate in 2000, defeating Republican incumbent William Roth. He was reelected by landslides in 2006, 2012, and 2018. He serves as one of four deputy Democratic whips, the chairman of the Senate Environment and Public Works Committee and on the Homeland Security and Governmental Affairs Committee and the Finance Committee. Carper is the senior senator in Delaware's congressional delegation and the dean of the delegation. He is the last Vietnam War veteran to serve in the Senate.
Early life and education
Carper was born in Beckley, West Virginia, the son of Mary Jean (née Patton) and Wallace Richard Carper. He grew up in Danville, Virginia, and graduated from Whetstone High School in Columbus, Ohio. He then graduated from the Ohio State University in 1968, where he was a midshipman in the Naval ROTC and earned a degree in economics. At Ohio State, Carper became a member of the Beta Phi Chapter of the Delta Tau Delta fraternity. Carper earned an MBA from the University of Delaware in 1975.
Early career
Serving as a Naval Flight Officer in the U.S. Navy from 1968 until 1973, he served three tours of duty in Southeast Asia during the Vietnam War. He remained in the U.S. Naval Reserve as a P-3 aircraft mission commander for another 18 years and retired with the rank of Captain (O-6).[2]
While in college at the Ohio State University, Carper worked on the presidential campaign of U.S. Senator Eugene McCarthy. In Delaware, he worked as the campaign treasurer for University of Delaware professor James R. Soles in his unsuccessful 1974 bid for the U.S. House of Representatives.
After receiving his MBA degree in 1975, Carper went to work for the State of Delaware's economic development office. In 1976, after developing good relationships with members of the state party leadership, he took out a $5,000 personal loan to fund his campaign for the Treasurer of Delaware. After convincing the party leaders, and later the voters, that he was the right person to be Delaware State Treasurer, he defeated the favored Republican Party candidate, Theodore Jones. He served three terms, from January 18, 1977, through January 3, 1983, during which time he oversaw the development of Delaware's first cash management system.
U.S. House of Representatives
It took a considerable amount of persuasion on the part of U.S. Senator Joe Biden and others to convince Carper to leave his obscure, but safe, position as Treasurer and compete for Delaware's only seat in the U.S. House of Representatives in 1982. Thomas B. Evans Jr., the incumbent Republican, was running again, and although he had been caught in a compromising "association" on a golfing trip with the young lobbyist Paula Parkinson, he was still a formidable and well-connected politician.[3]
The campaign was going well for Carper until three weeks before Election Day, when the New York Post published an article claiming that the "dirtiest campaign in the country is being waged in tiny Delaware." Retelling the well-known story of Evans' golfing trip, it went on to accuse Carper of abusing his wife and stepchildren. But the story actually ended up working to Carper's political advantage when suspicions spread that the allegations had been planted by an Evans supporter and when public opinion seemed to conclude that the allegations were inappropriately exploiting a private issue.[4][5] Carper and his wife, Diane, both denied the allegations in 1982, but he later admitted to having slapped her. On Election Day, Carper defeated Evans and was elected to the U.S. House of Representatives.[6]
Carper went on to serve five terms in the U.S. House of Representatives. He won his second term in 1984, by defeating Elise R. W. du Pont, the wife of retiring Governor Pete du Pont. He then enjoyed easy victories over Republicans Thomas S. Neuberger in 1986, James P. Krapf in 1988 and Ralph O. Williams in 1990. A U.S. Representative, he was a member of the U.S. House Committee on Banking, Finance and Urban Affairs and the U.S House Committee on Merchant Marine and Fisheries. He chaired the House Subcommittee on Economic Stabilization. In these positions he worked to allow banks into the securities business and to discourage the dumping of sludge into the ocean.
During his years in the U.S. House of Representatives Carper sought to gain better control of the Democratic Party organization in Delaware in hopes of someday becoming governor. Heavily Democratic and with over half of the population of the state, New Castle County was the key. Its Democratic organization was controlled by Eugene T. Reed, a former ironworker, and an old-time political party boss who was then among several politicians in both parties implicated in illegal money raising practices. To address this corruption and rescue the reputation of the Democratic Party, Carper recruited Joseph E. Reardon, a DuPont Company chemist, as a candidate for New Castle County Democratic Party chairman. By early 1989, he had succeeded in getting Reardon elected, and Reardon replaced Reed at the head of a newly reformed party organization. In 1990 Carper faced a primary challenge from a Reed ally, Daniel D. Rappa, after winning, he went on to win election to his fifth term as U.S. Representative.
Governor of Delaware
In the small and intimate political community of Delaware, important decisions are often made by a consensus of leaders from both parties. So it was in 1992, when popular incumbent (Republican) Governor Michael Castle was forced to retire owing to term limits. The result was what became known as "the Swap." Castle ran for Carper's seat in the U.S. House of Representatives and Carper ran for Governor. Neither faced any significant opposition and Delaware retained the services of two very popular office holders representing both major parties.
Thus, in 1992, Carper was elected Governor of Delaware, defeating the Republican candidate, B. Gary Scott. He ended up serving two terms. As a moderate, business-oriented Democrat who followed two very competent and popular Republican administrations, those of Pete du Pont and Castle, Carper chose to govern in much the same way they had over their combined 16 years in office, adding to the mix his special interest in and talent for economic development and business recruitment. Two particular successes were his prevention of the closure of the General Motors automobile operation near Newport, Delaware, and the state's victory in the competition with Pennsylvania for the location of the headquarters of the pharmaceutical giant, AstraZeneca.
Continuing du Pont's tax cutting policies, Carper led an ongoing effort to reduce income tax rates, eliminate the marriage penalty and estate tax, cut the public utility tax, and eliminate the gross receipts tax for many small businesses. By doing so, his administration improved the state's credit rating from among the worst in the nation to an excellent "AAA". He also retained Castle's standards-based education programs, raising standards, testing students, and pushing through a teacher accountability bill. Other programs included a fully funded Head Start program and the creation of a prescription-drug benefit for seniors.
Carper's independent, New Democrat approach made him popular among voters, but caused grumbling among old line Democrats, particularly union leaders, who complained that not enough of them were being awarded patronage jobs after the many years of Republican control.[4] In an era of increasingly bitter, partisan politics, Carper's actions and policies placed him at the political center, in keeping with Delaware's consensus style of governing. One atypical example of Carper's bipartisan cooperation occurred in 1995, when Carper's former House colleague Bob Dornan was running as a candidate in the 1996 Republican primary for the Presidential nomination. At a stop in Wilmington, Delaware, for a train on which Dornan was traveling, Carper was waiting on the platform, dressed as a pregnant woman, carrying a sign that said "Dornan Is the One". Dornan recognized Carper, and went along with the joke, which Carper had coordinated with the Republican State Committee of Delaware.[7]
The most poignant event during this period was the murder of Carper's personal scheduler, Anne Marie Fahey, and the eventual conviction of Thomas J. Capano for the crime. Capano was a wealthy, well-connected lawyer, known to nearly everyone in Delaware's political community. Fahey, a 30-year-old member of another well-known family, was attempting to end a romantic relationship with the married Capano, when he murdered her and dumped her body in the Atlantic Ocean. U.S. Attorney Colm F. Connolly built the case against Capano, who was tried and convicted, then sentenced by Delaware Superior Court Judge William Swain Lee.
As a tribute to Fahey, who had been a youth mentor, then-Governor Carper also became a mentor, and began actively promoting mentoring programs throughout Delaware's business community. As a result, by the end of his last term, Delaware held the highest per-capita ratio of youth mentors in the country. Carper also established the Delaware Mentoring Council to help sustain this important legacy.
United States Senate
Elections
2000
The elections of 2000 promised to bring a change in Delaware's political lineup. For 16 years, the same four people had held the four major statewide positions — Governor Carper and fellow Democratic Senator Joe Biden, and Republicans U.S. Representative Michael Castle and Senator William Roth. Because of gubernatorial term limits, Carper had to retire from the post. He wanted to run for the Senate against the incumbent Roth. Roth would not retire voluntarily and fellow Republican Castle would not force him into a primary. Carper declared his candidacy in September 1999.[8] In a contest between two popular and respected politicians, the issue seemed to be Roth's age: Roth was 79, versus Carper's relative youth. Although Roth started the campaign with a 2-to-1 spending advantage, Carper went into the final month with more than $1 million on hand.[9] Carper defeated Roth by twelve points, 56% to 44%. Roth received more votes than Republican presidential candidate George W. Bush, suggesting that the strength of the Democratic turnout for the presidential election was a key factor in Carper's victory. Some commentators attributed Roth's defeat to his age and health, as he collapsed twice during the campaign, once in the middle of a television interview and once during a campaign event.[9][10][11]
2006
Carper sought re-election to a second term in 2006. He was unopposed in the Democratic primary and faced off against Republican candidate Jan C. Ting. Ting was a professor of law who had narrowly beaten airline pilot Michael D. Protack in the Republican primary. Carper was easily re-elected in a landslide win, beating Ting 67% to 27%.
2012
As the 2012 election cycle began, a Super PAC was created to oppose Carper's re-election campaign. The Hill quoted Patrick Davis, the custodian of records and agent for Renew Delaware as saying: "Tom Carper has served in the United States Senate for a long time and has been part of the downturn in our economy." Delaware Politics noted that the election would be costly for the Republican candidate and that the popular Carper was heavily favored to win a third term in office.[12] A Carper spokesperson, Emily Spain, was quoted in The Hill saying that Carper was successful in his previous campaigns "because he works hard, takes nothing for granted, and puts the needs and interests of Delaware first."[13] Carper won the Democratic primary with 88% of the vote and faced off against the only Republican candidate who filed for the race, businessman Kevin Wade. Carper was re-elected in another landslide, beating Wade 66% to 29%.
2018
In August 2018, Carper was seeking his fourth six-year term in the United States Senate.[14][15] His campaign contributors included DuPont, with DuPont being his third largest contributor since 2013. Between 2013 and 2018, he received $2.1 million from political action committees.[16] Carper was challenged from the left by Kerri Evelyn Harris, a US Air Force Veteran. She contrasts with Carper in that she advocates a single payer healthcare system,[17] and Carper wants to keep working on the Affordable Health Care Act.[18] Carper defeated Harris in the primary election with roughly 65% of the vote.[19] It was Carper's most competitive primary in his recent political history. In the general election, Carper defeated Republican opponent Rob Arlett by a landslide margin of 22.2 points, 60.0% to 37.8%.[20]
Tenure
He served with the Democratic minority in the 108th and 109th Congresses, and was part of the Democratic majority in the 110th Congress. At the beginning of the 107th Congress, the Democratic Party was in the minority, but later held the majority. Carper is a member of the moderate Democratic Leadership Council (DLC), of which he currently serves as Vice-Chairman. In December 2004, Carper became a part of the Senate Democratic Leadership. As a member of a four-person "Executive Committee", he is one of four deputy whips. David Broder of The Washington Post has called Carper "a notably effective and non-partisan leader, admired and trusted on both sides of the aisle."[21]
During the 2021 storming of the United States Capitol, Carper said he did not support invoking the Twenty-fifth Amendment to the United States Constitution nor impeachment of Trump.[22] But hours later, he called on Trump to resign. He also called the attackers "domestic terrorists." That evening, he voted in support of certifying the 2021 United States Electoral College vote count.[23]
Committee assignments
Caucus membership
Political positions
Vox has called Carper a moderate Democrat.[25] He has a 13% conservative rating from the American Conservative Union.[26][27] Carper voted for the Budget Control Act, against cut, cap and balance, for debt increase, for debt ceiling increase, for debt limit increase, for the stimulus, for TARP, for the Patient Protection and Affordable Care Act, for SCHIP, for DREAM, and for the Immigration Reform Act of 2006.[28]
Abortion
Carper has a mixed record on abortion issues. In 2003, he was one of 17 Democrats who broke with the majority of their party by voting to ban partial-birth abortion.[29] He also voted against banning abortion after 20 weeks of pregnancy, but voted to ban the use of federal funds for abortion.[30] In 2018, he opposed President Trump's proposal to defund Planned Parenthood.[31] Carper was given a 50% rating by NARAL Pro-Choice America, indicating a mixed record on abortion, according to their scoring, and a 25% rating from the anti-abortion National Right to Life Committee.[32] After Roe v. Wade was overturned in June 2022, he said the decision was "unconscionably cruel and wrong" and that it was a "dark day for our country and our Constitution."[33]
Foreign policy
In April 2019, Carper was one of thirty-four senators to sign a letter to President Trump encouraging him "to listen to members of your own Administration and reverse a decision that will damage our national security and aggravate conditions inside Central America", asserting that Trump had "consistently expressed a flawed understanding of U.S. foreign assistance" since becoming president and that he was "personally undermining efforts to promote U.S. national security and economic prosperity" through preventing the use of Fiscal Year 2018 national security funding. The senators argued that foreign assistance to Central American countries created less migration to the U.S., citing the funding's helping to improve conditions in those countries.[34]
Gun law
Carper joined 23 other Senate Democrats in signing a letter supporting Obama taking executive action to reduce gun violence.[35] In 2013, he voted to ban high-capacity magazines of over 10 bullets.[36] In 2016, Carper participated in the Chris Murphy gun control filibuster.[37] In response to the 2017 Las Vegas shooting, Carper called for more gun laws, specifically background checks and mental health screenings.[38]
In January 2019, Carper was one of forty senators to introduce the Background Check Expansion Act, a bill that would require background checks for either the sale or transfer of all firearms including all unlicensed sellers. Exceptions to the bill's background check requirement included transfers between members of law enforcement, loaning firearms for either hunting or sporting events on a temporary basis, providing firearms as gifts to members of one's immediate family, firearms being transferred as part of an inheritance, or giving a firearm to another person temporarily for immediate self-defense.[39]
Finance and economy
He joined in the unsuccessful attempt to tie the Bush administration tax cuts to deficit reduction and has supported additional funding for school choice programs and charter schools. He has also sought additional funding for railroad projects and for rail security. He strongly supported legislation to limit class action lawsuits and to restrict personal bankruptcy. In addition, he is a strong proponent of free trade. In 2012, Carper sponsored a bill, eventually passed and signed into law, that required government agencies to identify $125 billion in expected waste and fraud.[40]
Carper and George Voinovich of Ohio proposed a 25-cent raise in the federal gasoline tax; 10 cents would go to pay down the debt and the rest toward improving the nation's infrastructure. The measure was proposed in November 2010.[41] The measure did not pass.
On May 14, 2011, The Wall Street Journal criticized a postal-bailout bill co-sponsored by Carper and Susan Collins (R-Maine). The bill would give $50–$75 billion to USPS, and would underwrite pension obligations for retired postal workers. The bailout would cost three times the savings of the 2011 federal budget.[42]
On August 1, 2019, the Senate passed a bipartisan budget deal that raised spending over current levels by 320 billion and lifted the debt ceiling for the following two years in addition to forming a course for funding the government without the perceived fiscal brinkmanship of recent years. Carper joined Joe Manchin and Republicans Mitt Romney and Rick Scott in issuing a statement asserting that "as former Governors, we were responsible for setting a budget each year that was fiscally responsible to fund our priorities. That's why today, we, as U.S. Senators, cannot bring ourselves to vote for this budget deal that does not put our country on a fiscally sustainable path."[43]
Environment
Carper proposed the creation of a National Park in Delaware, the Coastal Heritage Park, in four locations along the Delaware River and Delaware Bay. In January 2009, Carper briefly chaired a Senate Committee on Environment and Public Works hearing on the Tennessee Valley Authority's coal ash spill in Kingston, Tennessee. However, he did vote for Keystone XL Pipeline, but has since expressed disappointment in that vote.[44]
Carper supports the EPA and Clean Air Act and blames states to the west of Delaware for its air pollution, calling them "America's tailpipe".[45]
Housing
In April 2019, Carper was one of forty-one senators to sign a bipartisan letter to the housing subcommittee praising the United States Department of Housing and Urban Development's Section 4 Capacity Building program as authorizing "HUD to partner with national nonprofit community development organizations to provide education, training, and financial support to local community development corporations (CDCs) across the country" and expressing disappointment that President Trump's budget "has slated this program for elimination after decades of successful economic and community development." The senators wrote of their hope that the subcommittee would support continued funding for Section 4 in Fiscal Year 2020.[46]
Technology
Carper co-wrote the "Protecting Cyberspace as a National Asset Act of 2010"[47] introduced on June 19, 2010, by Senator Joe Lieberman (Senator Susan Collins is the third co-author of this bill). If signed into law, this controversial bill, which the American media dubbed the "Kill switch bill", would grant the President emergency powers over the Internet. All three co-authors of the bill, however, issued a statement claiming that instead, the bill "[narrowed] existing broad Presidential authority to take over telecommunications networks".[48] Carper was quoted as saying that the bill "would create a National Center for Cybersecurity and Communications in the Department of Homeland Security, with a Senate-confirmed director to oversee security of the federal government's computer networks. The center would also identify vulnerabilities and help secure key private networks – like utilities and communications systems – that, if attacked or commandeered by a foreign power or cyberterrorists, could result in the crippling of our economy."[49]
Consumer regulations
In May 2010, Carper introduced an amendment to limit state regulators from enforcing consumer regulations on national banks and their subsidiaries. It would also remove a Senate legislative measure requiring the Office of the Comptroller of the Currency to find a "substantive standard" on regulation, before the office could move to preempt. The White House opposed Carper's amendment. The amendment passed by a vote of 80–18.[50]
Employment
Jobs bill
On September 21, 2011, The Wall Street Journal noted that President Obama's job-creation plans were drawing resistance from Senate Democrats. The article quoted Carper as saying, "I think the best jobs bill that can be passed is a comprehensive long-term deficit-reduction plan. That's better than everything else the president is talking about combined."[51]
Minimum wage
In April 2014, the United States Senate debated the Minimum Wage Fairness Act (S. 1737; 113th Congress). The bill would amend the Fair Labor Standards Act of 1938 (FLSA) to increase the federal minimum wage for employees to $10.10 per hour over the course of a two-year period.[52] The bill was strongly supported by President Barack Obama and many of the Democratic Senators, but strongly opposed by Republicans in the Senate and House.[53][54][55] Carper said that he preferred legislation that would have a greater chance of becoming law, such as an increase to only $9 an hour.[54]
On March 5, 2021, Carper voted against Bernie Sanders's amendment to include a $15/hour minimum wage in the American Rescue Plan Act of 2021.[56]
LGBT rights
Carper signed a law as Governor defining "marriage as between a man and a woman," but he also voted as a Senator against the Federal Marriage Amendment, a proposed constitutional amendment to ban gay marriage.[57] He also voted against banning gay marriage again in 2006.[58] In 2013, Carper announced that he now supports same-sex marriage.[59]
Iraq War
Carper voted yes on the 2002 Iraq War Resolution.[60]
Personal life
Carper married Martha Ann Stacy in 1985. They have two children. The family are members of Westminster Presbyterian Church in Wilmington, Delaware.
Unlike most senators, who maintain residences in both Washington, D.C., and in their home state, Carper commutes more than 100 miles by Amtrak train from his home in Wilmington to the United States Capitol. Carper says this arrangement has helped his family live a normal life despite his demanding, high-profile job.[61] On May 12, 2015, he narrowly escaped injury when the train he took home derailed and crashed in Philadelphia shortly after he deboarded.[62]
Carper has been married twice, first in 1978, to Diane Beverly Isaacs, a former Miss Delaware, who had two children by a previous marriage. They divorced in 1983. In a 1998 interview, Carper admitted, "I slapped my then-wife, Diane, during a heated argument," describing it as a mistake.[63][5] A New York Post article in 1982 stated that Carper hit Isaacs "so hard he gave her a black eye" and that his wife's two children from a previous relationship "were slapped around and bruised by Carper for doing such things as leaving the family dog on the bed." Carper denied these claims.[5]
As of 2018, according to OpenSecrets.org, Carper's net worth was more than $5.7 million.[64]
Almanac
Elections are held the first Tuesday after November 1. The Governor and State Treasurer take office the third Tuesday of January. The Governor has a four-year term and the State Treasurer had a two-year term at this time. U.S. Representatives take office January 3 and have a two-year term. U.S. Senators also take office January 3, but have a six-year term.
Public offices
Office
Type
Location
Began office
Ended office
Notes
State Treasurer
Executive
Dover
January 18, 1977
January 16, 1979
State Treasurer
Executive
Dover
January 16, 1979
January 20, 1981
State Treasurer
Executive
Dover
January 20, 1981
January 3, 1983
resigned
U.S. Representative
Legislature
Washington
January 3, 1983
January 3, 1985
U.S. Representative
Legislature
Washington
January 3, 1985
January 3, 1987
U.S. Representative
Legislature
Washington
January 3, 1987
January 3, 1989
U.S. Representative
Legislature
Washington
January 3, 1989
January 3, 1991
U.S. Representative
Legislature
Washington
January 3, 1991
January 3, 1993
Governor
Executive
Dover
January 19, 1993
January 21, 1997
Governor
Executive
Dover
January 21, 1997
January 3, 2001
resigned
U.S. Senator
Legislative
Washington
January 3, 2001
January 3, 2007
U.S. Senator
Legislative
Washington
January 3, 2007
January 3, 2013
United States Congressional service
Dates
Congress
Chamber
Majority
President
Committees
Class/District
1983–1984
98th
U.S. House
Democratic
Ronald Reagan
Financial Services, Fisheries
at-large
1985–1986
99th
U.S. House
Democratic
Ronald Reagan
Financial Services, Fisheries
at-large
1987–1988
100th
U.S. House
Democratic
Ronald Reagan
Financial Services, Fisheries
at-large
1989–1990
101st
U.S. House
Democratic
George H. W. Bush
Financial Services, Fisheries
at-large
1991–1992
102nd
U.S. House
Democratic
George H. W. Bush
Financial Services, Fisheries
at-large
2001–2002
107th
U.S. Senate
Democratic
George W. Bush
Banking, Environment, Homeland Security, Aging
class 1
2003–2004
108th
U.S. Senate
Republican
George W. Bush
Banking, Environment, Homeland Security, Aging
class 1
2005–2006
109th
U.S. Senate
Republican
George W. Bush
Banking, Environment, Homeland Security, Aging
class 1
2007–2009
110th
U.S. Senate
Democratic
George W. Bush
Banking, Commerce, Environment, Homeland Security, Aging
class 1
2009–2011
111th
U.S. Senate
Democratic
Barack Obama
Environment, Finance, Homeland Security
class 1
Election results
Year
Office
Election
Subject
Party
Votes
%
Opponent
Party
Votes
%
1976
State Treasurer
General
Tom Carper
Democratic
118,159
56%
T. Theodore Jones
Republican
92,472
43%
1978
State Treasurer
General
Tom Carper
Democratic
91,809
59%
Rita Justice
Republican
63,011
40%
1980
State Treasurer
General
Tom Carper
Democratic
125,204
59%
Lynn Jankus
Republican
83,446
40%
1982
U.S. Representative
General
Tom Carper
Democratic
98,533
52%
Thomas B. Evans Jr.
Republican
87,153
46%
1984
U.S. Representative
General
Tom Carper
Democratic
142,070
58%
Elise R. W. du Pont
Republican
100,650
41%
1986
U.S. Representative
General
Tom Carper
Democratic
106,351
66%
Thomas S. Neuberger
Republican
53,767
33%
1988
U.S. Representative
General
Tom Carper
Democratic
158,338
68%
James P. Krapf
Republican
76,179
32%
1990
U.S. Representative
Primary
Tom Carper
Democratic
24,557
90%
Daniel D. Rappa
Democratic
2,676
10%
1990
U.S. Representative
General
Tom Carper
Democratic
116,274
66%
Ralph O. Williams
Republican
58,037
33%
1992
Governor
Primary
Tom Carper
Democratic
36,600
89%
Daniel D. Rappa
Democratic
4,434
11%
1992
Governor
General
Tom Carper
Democratic
179,268
66%
B. Gary Scott
Republican
90,747
34%
1996
Governor
General
Tom Carper
Democratic
188,300
70%
Janet C. Rzewnicki
Republican
82,654
30%
2000
U.S. Senator
General
Tom Carper
Democratic
181,566
56%
William Roth
Republican
142,891
44%
2006
U.S. Senator
General
Tom Carper
Democratic
170,567
70%
Jan C. Ting
Republican
69,734
29%
2012
U.S. Senator
General
Tom Carper
Democratic
265,374
66%
Kevin Wade
Republican
115,694
29%
2018
U.S. Senator
General
Tom Carper
Democratic
217,385
60%
Rob Arlett
Republican
137,127
37%
Notes
References
External links
Issues
Source: Government page
Committees
In the 117th Congress, Senator Carper serves as the top ranked Democrat on the Environment and Public Works Committee, leading Committee Democrats in efforts to protect public health and the environment, conduct oversight of the Environmental Protection Agency and push for smart investments in our nation's infrastructure. He also serves as a senior member on the Homeland Security and Governmental Affairs Committee and is the top Democrat on the Permanent Subcommittee on Investigations, a bipartisan committee that has broad jurisdiction to conduct oversight of the federal government and conduct independent investigations on issues that impact every American. Senator Carper also serves on the Finance Committee which is charged with managing our nation's tax code and considering international trade agreements.
The purpose of a Senate committee is to review proposed legislation before sending it to the full Senate for final debate and approval. The senator in charge of the committee is called the chairman, and is a member of the majority party. The minority party has a similar leader, called the ranking member. When a committee is given a bill to prepare, they coordinate with different government agencies for input on the issue. For example, on a bill that is being reviewed by the Environment and Public Works Committee, committee members may ask for input from the Environmental Protection Agency on how to improve the bill. Then the committee may invite experts to give their testimony at a hearing. After the various agencies and experts have weighed in, the committee reviews the bill, makes changes and submits the bill to the full Senate for debate and a vote.
To learn more about Senator Carper's committee assignments, please visit the following pages:
Committee on Environment and Public Works, Chairman
Committee on Homeland Security and Governmental Affairs
As a senior member of the Senate Committee on Homeland Security and Governmental Affairs, Senator Carper uses his prior experience as Chairman, and then Ranking Member of the committee to advance his priorities for Delaware and . Some of Senator Carper's top priorities are postal reform, cyber security, curbing waste in government spending, and strengthening America's borders. In addition to this, Senator Carper and the committee are responsible for reviewing legislation that affects the Department of Homeland Security and, more broadly, the efficiency and effectiveness of government functions. To learn more about Senator Carper's role as ranking member and his past role as chairman, visit the committee's website here.
Subcommittee on International Trade, Customs, and Global Competitiveness, Chairman
Legislation
Sponsored and Cosponsored
Issues