Summary
Current Position: Governor since 2017
Affiliation: Democrat
Candidate: 2022 Governor
Former Positions: US Representative from 2011 – 2017; Lt. Governor from 2001 – 2009
Featured Quote: 
In Lewes today to sign the Clean Water for Delaware Act and to announce a plan to address wastewater and drinking water issues in underserved communities throughout #Delaware. Watch live
Featured Video: 
I hear you – Delaware Governor John Carney
News
Governor John Carney and First Lady Tracey Quillen Carney on Friday encouraged students and families to read throughout the school year by promoting the new Story Walks created in partnership with the Delaware Department of Education (DDOE), the Delaware Department of Natural Resources and Environmental Control (DNREC), the Delaware Division of Libraries and Syncretic Press, a multi-lingual book publisher based in Wilmington.
"Delaware students, families and educators worked hard this summer to make sure learning was accelerated before students went back to classrooms. This effort was capped off with the introduction of the Story Walks in our Delaware State Parks," said Governor Carney. "One of our highest education priorities is to make sure third graders are reading at grade level. Programs like these Story Walks will help children experience reading in an interactive way in all three counties. We encourage you to check out the Story Walks and sign up for a library card if you don't have one."
Twitter
About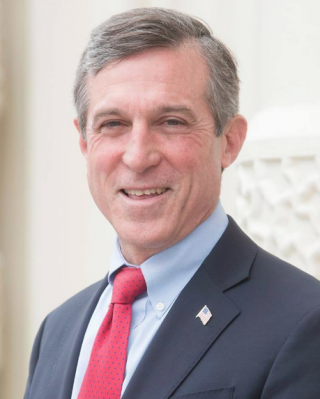 Source: Government page
Born in Wilmington and raised in Claymont, Governor John Carney has been working for the Delaware people for more than 30 years. John took office as Delaware's 74th Governor in January 2017, focused on making Delaware's economy more competitive, preparing Delaware's children to succeed, and building a long-term sustainable financial plan for the State of Delaware. Working with Delawareans across the state, and with members of the General Assembly, he has made progress on each of those priorities. John has directed new resources to high-needs schools, partnered with the private sector to drive new job creation, and taken steps to lower healthcare costs for Delaware families, businesses, and taxpayers.
From 2011 to 2017, John served as Delaware's lone member of the U.S. House of Representatives. During his three terms in Congress, John worked with members of both parties to find solutions to the most important challenges facing the nation. He supported the revitalization of American manufacturing through the "Make It In America" agenda. He was a lead sponsor of the centerpiece of the Jumpstart our Businesses (JOBS) Act that made it easier for small- and medium-sized businesses to grow and create jobs. John also introduced legislation that was signed into law to prevent critical prescription drug shortages, and he was the lead sponsor on a successful bill to help veterans more easily enter the job market.
Prior to his time in Congress, John served two terms as Delaware's Lieutenant Governor. Between 2001 and 2009, John developed the Lt. Governor's Challenge to encourage Delawareans to live active, healthier lifestyles. He also created and implemented the Models of Excellence in Education program that allowed schools throughout the state to share best practices. In addition, John was a strong supporter of the Delaware smoking ban and he led the fight for a Cancer Right to Know law, ultimately passed in 2008. John also served as Chairman of the Delaware Healthcare Commission, the Criminal Justice Council, and the Delaware Science & Technology Council.
Under then-Governor Tom Carper, John served as Delaware's Secretary of Finance and Deputy Chief of Staff. Before that, he was Deputy Chief Administrative Officer for New Castle County, and on the staff of then-Senator Joe Biden. In these roles, he helped Delaware earn its first ever AAA bond rating, played a key role in the state's purchase of the Port of Wilmington, and worked to cut taxes nine times.
The second of nine children, John was born in Wilmington and raised in Claymont by his parents, Jack and Ann Carney, who were both educators. He attended St. Mark's High School and led the school's football team to its first state championship in 1973. After graduating high school, John attended Dartmouth College where he continued his football career and earned All-Ivy League and Most Valuable Player honors. When John returned to Delaware, he coached Freshmen Football on the staff of UD Head Coach Tubby Raymond while earning a Master's Degree in Public Administration at the University of Delaware.
John lives in Wilmington with his wife, Tracey. They have two sons, Sam and Jimmy.
Experience
Education
Contact
Email:
Offices
Wilmington
Carvel State Office Building
820 N. French Street
12th Floor
Wilmington, DE 19801
Dover
Tatnall Building
150 Martin Luther King Jr Blvd South
Dover, DE 19901
Web
Government Page, Twitter, Facebook
Politics
Source: none
Campaign Finance
Open Secrets – We Follow the Money
Voting Record
VoteSmart – Key Votes & Ratings
Search
Wikipedia Entry
John Charles Carney Jr. (born May 20, 1956) is an American former football coach and politician serving as the 74th governor of Delaware since 2017. A member of the Democratic Party, Carney served as the U.S. representative for Delaware's at-large congressional district from 2011 to 2017 and as the 24th lieutenant governor of Delaware from 2001 to 2009. He also served as Delaware's secretary of finance. He first unsuccessfully sought the Democratic nomination for governor in 2008, losing to Jack Markell. He ran for governor again in 2016 and won, succeeding Markell, who was term-limited. He was reelected in 2020, defeating Republican Julianne Murray with 59.5% of the vote.
Early life
Carney was born in Wilmington, Delaware, and raised in Claymont, the second of nine children of Ann Marie (née Buckley) and John Charles "Jack" Carney (1925-2014).[1] Both his parents were educators.[2] His great-grandparents immigrated from Ireland.[3] Carney was quarterback of the 1973 state championship St. Mark's High School football team, and earned All-Ivy League and Most Valuable Player honors in football at Dartmouth College, from which he graduated in 1978. At Dartmouth, he joined the local Beta Alpha Omega fraternity. He later coached freshman football at the University of Delaware while earning his master's degree in public administration.[4][5]
Early political career
Carney has served as Deputy Chief Administrative Officer of New Castle County and as Secretary of Finance and Deputy Chief of Staff for Governor Tom Carper.
Lieutenant governor of Delaware
Carney was elected lieutenant governor of Delaware in 2000 and served from January 16, 2001 until January 20, 2009. As lieutenant governor, he presided over the Delaware State Senate and chaired the Board of Pardons. He also chaired the Delaware Health Care Commission, the Interagency Council on Adult Literacy, the Criminal Justice Council, the Center for Education Technology, and the Livable Delaware Advisory Council. In 2002 he launched the education initiative "Models of Excellence in Education" to identify practices in schools that have raised student achievement. Carney was also selected by other lieutenant governors to chair the National Lieutenant Governors Association from July 2004 to July 2005.
Carney has long been an advocate for wellness issues in Delaware, sponsoring "BeHealthy Delaware" and "The Lt. Governor's Challenge" to encourage Delawareans to be more active and address the state's high rate of chronic disease. He fought for Delaware's public smoking ban to improve health, cut cancer rates, and discourage teens from starting to smoke.
After completing his tenure as lieutenant governor in 2009, Carney served as president and chief operating officer of Transformative Technologies, which is investing in the DelaWind project, to bring offshore wind turbine construction to Delaware.[6] He planned to step down in early 2010 to concentrate on his U.S. House campaign.[7]
U.S. House of Representatives
Elections
2010
Carney was the Democratic nominee for Delaware's at-large seat in the United States House of Representatives in 2010. He faced Republican Glen Urquhart, Independent Party of Delaware nominee Earl R. Lofland, Libertarian Brent A. Wangen, and Blue Enigma Party nominee Jeffrey Brown. The seat had been held since 1993 by Republican Michael Castle, who declined to seek reelection to the House in order to run for the U.S. Senate seat once held by Vice President Joe Biden. In the first week of October, Fairleigh Dickinson University's PublicMind Poll released the results of its opinion research, showing Carney with a 15-point advantage over Urquhart, 51%-36%.[8] Days before the election, a second Fairleigh Dickinson poll showed Carney leading by 17 points, 53% to 36% among likely voters.[9]
Carney won the seat by 16 points, 57%-41%, and took office on January 3, 2011. His victory was one of the three seats Democrats gained in a year when they lost a net 63 seats to the Republicans.
2012
In his bid for a second term, Carney faced Republican Tom Kovach, the president of the New Castle County Council, and two minor candidates. In a debate with Kovach, Carney said, "I will continue to do in Washington what I did in Delaware: work across the aisle to get things done. I learned early on that compromise is part of life." Of the Affordable Care Act (Obamacare), Carney said that it "is not perfect" but that it is the "only chance we have to get costs under control."[10] Carney was reelected in a landslide, with 64% of the vote to Kovach's 33%.
2014
Carney ran for reelection to a third term in 2014. He defeated Republican Rose Izzo, 59% to 37%, with Green nominee Bernie August and Libertarian Scott Gesty taking 2% each.
Tenure
In 2011, Carney and Illinois Republican Aaron Schock co-sponsored a bill that would use U.S. oil exploration to help fund a five-year federal highway construction project.[11][12]
On April 7, 2014, Carney introduced the Expatriate Health Coverage Clarification Act of 2014 (H.R. 4414; 113th Congress) into the House.[13] The bill would exempt expatriate health care plans from the requirements of the Affordable Care Act.[14] Carney argued that expatriates, a group that includes businessmen, pilots, and ship captains, usually already have special, high-quality health care plans designed to meet their unique needs.[14] Carney said that "expatriate health insurance plans offer high-end, robust coverage to executives and others working outside their home country, giving them access to a global network of health care providers."[14] He indicated that requiring American expatriate health care providers to meet the Affordable Care Act's tax and reporting requirements would put them at an unfair competitive disadvantage in comparison to foreign companies offering similar health care plans.[14]
Committee assignments
Governor of Delaware
Elections
2008
Carney sought the Democratic nomination for governor in 2008, as incumbent Governor Ruth Ann Minner was constitutionally barred from seeking a third term. Despite the backing of most of the party establishment, he lost the primary in an upset by fewer than 2,000 votes to State Treasurer Jack Markell, who went on to win the general election.[15]
2016
Carney once again sought the Democratic nomination for governor in 2016, as Markell was constitutionally barred from seeking a third term. Carney won the Democratic primary unopposed and went on to win the general election.[16]
Tenure
On July 12, 2017, after signing Executive Order 11 to reestablish the Juvenile Justice Advisory Group, Carney said, "The Juvenile Justice Advisory Group will help us create an environment where all Delaware kids have an opportunity to succeed. This Executive Order will recharge and reenergize the group to find solutions that will work."[17] On July 20, Carney vetoed a Delaware House of Representatives bill removing the five-mile radius of Delaware charter schools with enrollment preference and keeping out students in Wilmington, charging it with negatively impacting "some of our most vulnerable students."[18]
On October 13, 2017, in response to President Donald Trump's ending cost-sharing reductions within the American health care system, Carney said the choice would lead to "more people being uninsured in our state, which eventually means increased premiums for all of us" and pledged he would work with the state congressional delegation to return the cost-sharing reductions.[19]
In April 2019, Carney pardoned Barry Croft, a Bear resident who had served a three-year sentence for possessing a gun during the commission of a felony. In October 2020, Croft was arrested and federally charged for his involvement in a kidnapping plot against Michigan Governor Gretchen Whitmer. The day after Croft's arrest, Carney confirmed the pardon, called the federal charges "disturbing", and said, "This is also another warning sign about the growing threat of violence and radicalization in our politics."[20][21]
On March 12, 2020, one day after the first case of COVID-19 was reported in the state, Carney declared a State of Delaware Due to a Public Health Threat State of Emergency for the State of Delaware Due to a Public Health Threat. He has issued a series of declarations in response to the COVID-19 pandemic in Delaware.
On May 24, 2022, Carney vetoed a bill to legalize possession of up to one ounce of marijuana by adults for recreational use, incurring the wrath of fellow Democrats who have fought for years to make cannabis legal.[22]
Personal life
Carney married Tracey Quillen, daughter of Delaware Secretary of State William T. Quillen, on June 5, 1993.[23] They have two children, Sam and Jimmy, who attended Wilmington Friends School. Sam Carney graduated from Clemson University, while Jimmy is a computer science major at Tufts University.[24] In 2015 Sam Carney was named as one of a number of defendants in two separate lawsuits filed by the parents of Tucker Hipps, whose 2014 death allegedly occurred during a fraternity hazing incident.[25][26] The lawsuit was settled in July 2017.[27][28] Criminal charges have never been filed in the case despite there being no statute of limitations in South Carolina.
Carney's nephew is Minnesota Vikings offensive tackle Brian O'Neill.
Electoral history
Elections are held the first Tuesday after November 1. The lieutenant governor takes office the third Tuesday of January with a four-year term. U.S. Representatives take office January 3 and have a two-year term.
Election results
Year
Office
Election
Subject
Party
Votes
%
Opponent
Party
Votes
%
2000
Lt. Governor
General
John Carney
Democratic
193,348
62%
Dennis J. Rochford
Republican
119,943
38%
2004
Lt. Governor
General
John Carney
Democratic
218,272
62%
James P. Ursomarso
Republican
127,425
36%
2008
Governor
Primary
John Carney
Democratic
36,112
49%
Jack Markell
Democratic
37,849
51%
2010
U.S. House of Representatives
General
John Carney
Democratic
173,443
57%
Glen Urquhart
Republican
125,408
41%
2012
U.S. House of Representatives
General
John Carney
Democratic
249,905
64%
Tom Kovach
Republican
129,749
33%
2014
U.S. House of Representatives
General
John Carney
Democratic
137,251
59%
Rose Izzo
Republican
85,146
37%
2016
Governor
General
John Carney
Democratic
248,404
58%
Colin Bonini
Republican
166,852
39%
2020
Governor
General
John Carney
Democratic
292,903
59%
Julianne Murray
Republican
190,312
39%
References
External links
Recent Elections
2016
| | | |
| --- | --- | --- |
| John Carney (D) | 248,404 | 58.34% |
| Colin Bonini (R) | 166,852 | 39.19% |
| TOTAL | 415,256 | |
Finances
CARNEY JR, JOHN C has run in 7 races for public office, winning 6 of them. The candidate has raised a total of $8,660,153.
Source: Follow the Money
Voting Record
See: Vote Smart
Issues
Source: Government page
Governance
Supported General Assembly's passage of the Equal Rights Amendment to the Delaware Constitution.
Created the Delaware Anti-Litter Alliance – a coalition of local leaders committed to reducing litter in Delaware.
Signed an Executive Order making Delaware a trauma-informed state. The Order provides direction for the Family Services Cabinet Council to help mitigate the impact of adverse childhood experiences (ACEs) and build resilience in children, adults and communities.
Launched Text-to-911 capabilities at all Delaware 911 centers to accept emergency requests for help through text message when a call to 911 is not possible.
Launched full-scale, head-to-head sports betting in June 2018, making Delaware the first state in the nation outside of Nevada to offer this type of wagering.
Governor Carney signed legislation that allows new mothers and fathers in the state workforce to take up to 12 weeks of paid parental leave after the birth or adoption of their children, making Delaware a national leader on family leave.
Announced First Chance Delaware, an initiative led by First Lady Tracey Quillen Carney to recognize and facilitate effective partnerships, to share research and best practices, and to promote opportunities to collaborate in support of Delaware's children.
Launched a pilot program to test mobile driver's license technology, becoming one of first states to do so. The mobile licenses are designed to improve security and better protect personal privacy.
Created a Department of Human Resources within state government to spearhead women's advocacy, diversity and inclusion initiatives, and other issues important to state employees.
Hired Delaware's first Chief Diversity Officer to lead the state's efforts to define and cultivate equity, diversity, and inclusion throughout state government.
Established a consistent anti-discrimination policy across state government.
Created the Government Efficiency and Accountability Review Board (GEAR) to continuously identify cost savings and system improvements across state government.
Signed legislation making comprehensive reforms to the state's unclaimed property laws to make them more predictable, efficient and fair.
Received top AAA bond ratings from all three major credit rating agencies, and saved taxpayers $4.7 million through debt refinancing.
Expanded access to open data, adding features and datasets to the Open Data Portal. The portal offers Delawareans unfiltered access to data collected and maintained by state government, including information about public spending, state land inventory, and air quality monitoring. Eleven additional datasets were made publicly available in the last year alone.
Deployed more than 100 Delaware National Guard soldiers, airmen and women to support relief efforts in Texas, the United States Virgin Islands, and Puerto Rico.
Launched delaware.gov/relief to support relief efforts in Puerto Rico and other areas affected by natural disasters.
Economy
STRENGTHENING DELAWARE'S ECONOMY
Proposed and signed into law legislation creating a Transportation Infrastructure Investment Fund for transportation infrastructure economic development projects that will create a significant number of jobs.
Launched EDGE Grants (Encouraging Development, Growth & Expansion), a competitive, matching grant program to assist Delaware entrepreneurs who want to grow their small businesses.
Implemented Delaware One Stop, an online tool to streamline registration and licensing requirements.
Signed legislation allowing state government to enter into Pay for Success contracts that will incentivize private funding of economic development and social impact initiatives. Under terms of the contracts, the state would protect taxpayer dollars by reimbursing private funding only if the initiatives reach stated goals, and achieve progress for Delawareans.
Signed legislation aimed at protecting Delaware's coastal waters and economy from offshore drilling.
Finalized a $600 million agreement to expand the Port of Wilmington and create jobs.
Announced $4 billion infrastructure investment plan to modernize Delaware's transportation system.
Education
IMPROVING SCHOOLS FOR ALL DELAWARE CHILDREN
nhance the Opportunity Funding Initiative and worked with the General Assembly to provide $75 million over three years for English learners, low-income students, and new mental health supports in schools.
Expanded the High Needs Educator Student Loan Payment Program, offering up to $10,000 in student loan relief for educators in high-needs schools and subject areas.
Established the School Safety and Security Fund and provided school districts with $5 million to upgrade their safety infrastructure and protect children.
Worked with schools statewide to enhance internet speeds in the classroom, and make Delaware a national leader in classroom broadband speeds and connectivity, according to a 2018 State of the States report. The State of Delaware is recognized for 100 percent school connectivity.
Established the Office of Innovation and Improvement, led by a veteran Wilmington educator, to focus support on high-needs schools across Delaware, starting in Wilmington.
Launched a Basic Needs Closet initiative to stock 45 high-poverty schools with basic necessities such as clean clothing, school supplies, hygiene products, and winter clothing.
Restructured the Department of Education as a support agency, decreasing administrative positions while increasing supports for educators.
Partnered with school districts to upgrade broadband technology in 48 schools across the state, doubling bandwidth capacity and expanding access to high-speed internet for 27,000 Delaware children.
Health Care
Increased the age to purchase tobacco and vape products from 18 to 21 to prevent younger Delawareans from smoking, improve the health of young Delawareans, and reduce health care costs.
Created reinsurance program to lower health care costs on the ACA market place, which resulted in an almost 20% reduction in rates and an over 6% increase in enrollment.
Enacted a ban on single-use plastic bags that will help protect Delaware's environment, wildlife and communities.
Launched "Keep DE Litter Free," a statewide public awareness campaign to encourage Delawareans and visitors not to litter, to help clean up outdoor spaces, and protect Delaware's unique natural heritage.
Signed legislation that codifies consumer protections of the Affordable Care Act in Delaware law – including protections for Delawareans with pre-existing conditions, the guaranteed availability of coverage, and permissible rating factors.
Directed DNREC to initiate efforts to eliminate the use of hydrofluorocarbons (HFCs).
Supported U.S. Climate Alliance's "Clean Car Promise," which calls for a common-sense approach to address vehicle pollution and climate change.
Established health care benchmarks to lower the cost of health care in Delaware, and improve quality by tracking key measures of health care.
Enacted "Aiden's Law," which will ensure a coordinated plan of care for infants born addicted or exposed to drugs, and for their families.
Launched START initiative to engage more Delawareans suffering from substance use disorder in treatment, while also meeting their needs for housing, employment, education and other wraparound services.
Launched healthcare benchmark initiative to lower healthcare costs for Delaware families, businesses, and state government.
Signed legislation allowing the sale of naloxone, which can reverse the effects of an opioid overdose, at pharmacies without an individual prescription.
Signed into law a package of legislation that expanded access to substance abuse treatment, and strengthened oversight of opioid prescriptions.
Implemented new opioid prescription regulations, resulting in a drop in prescriptions statewide to their lowest levels in four years.
Created Behavioral Health Consortium and Addiction Action Committee to more effectively coordinate mental health and addiction services statewide.
Launched HelpIsHereDE.com, Delaware's one-stop website for information and services related to addiction prevention, treatment and recovery for the community, those struggling with addiction, and medical providers.
Safety
Supported legislation that makes it easier for offenders re-entering our communities to find meaningful employment.
Signed legislation requiring gun owners to safely store firearms around children.
Established the School Safety and Security Fund and provided school districts with $5 million to upgrade their safety infrastructure and protect children.
Signed an Executive Order to improve reentry procedures, reduce recidivism.
Confronted the issue of gun violence and mental illness by signing the Beau Biden Gun Violence Prevention Act alongside Vice President Joe Biden.
Signed legislation banning bump stock devices, strengthening penalties on straw purchases, and enacting additional red flag protections.
Joined the States for Gun Safety Coalition, a multi-state bipartisan partnership to more effectively share data across state borders, intercept the flow of illegal weapons, and engage research institutions to explore new ways to confront gun violence.
Announced an agreement to increase salaries for Delaware's correctional officers and study additional changes to help recruit and retain officers, and decrease the use of mandatory overtime across Delaware's correctional system.
Appointed a Special Assistant at the Department of Correction to oversee implementation of reforms recommended by the Independent Review into conditions at James T. Vaughn Correctional Center.
Implemented significant investments in equipment, technology and training at the Department of Correction.
Appointed a new Bureau Chief to lead DOC's efforts to help offenders successfully re-enter their communities, and reduce Delaware's rate of recidivism.
Opted-in to federal FirstNet plan to build a wireless broadband network intended to improve communications for first responders across the State of Delaware.
Joined the National Criminal Justice Reform Project – an initiative led by the National Governors Association and the National Criminal Justice Association Center for Justice Planning to assist states in implementing evidence-based criminal justice reforms.